Happy Birthday...
Bro decided to bring the family out for dinner
(finally!)
to celebrate my sis' 18th birthday. And for once, we're not eating in some steamboat place. Went to this
"Twelv"
restaurant which i initially thought it's some club wannabe in Brunei. Seriously, judging from the décor outside, i really thought it's like another Sugar & Spice place. Turned out that it's actually an ok place to dine if you have spare cash.
It's been a while since all of us went out together as a family after dad's passing but i'm glad tonight we managed to. Surprisingly, bro insisted on staying longer after dinner when most of the time, he'd be the first one to disappear. Wanted to take a picture with the birthday girl when my bro suddenly talked about how girls love to have that "
1-2-5 pose
". What's the "
1-2-5 pose
" you ask?
Here's an illustration..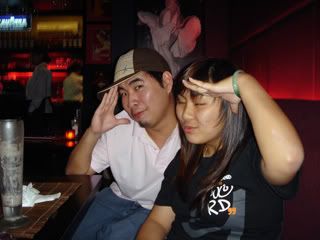 And lastly the "5" pose would be the salute type..
Note that i tried to make that mouth twitching thing that most girls always have whenever they pose but sadly, my mouth can't twitch as good as girls. Dad would've been so happy to know that her 'best girl in the world' daughter have turned 18. I know she's happy to have finally turn 18 years old because she's eager to drive. And also, because it's her 18th birthday, she thought it'd be cool to place her candles a bit differently than usual.
Talk about being 'unique'...
Being the nice brother that i am, i've managed to buy her an original concert dvd of her favourite singer as her birthday present. She's practically obsessed with this dude name
Wilber Pan
so i figured she'd love it. Initially she thought i'd get her a laptop. Sorry lah but i'm nice but not
THAT
nice yet. :P
On a sad note, it's heartbreaking to hear that one of the world's renowned tenor have
passed away
. I knew that
Luciano Pavarotti
was also diagnosed with pancreatic cancer few months after dad had it but assumed that he most likely would be able to survive since he's rich and famous. But i guess despite being rich and famous, once you have this bloody cancer thing, there's nothing else you can do but let God take over. And true enough, it's about a year or so before he lost his battle just like dad. I'm sure it was a well fought battle.
Rest well Mr. Pavarotti.
In Him