Blood!!
What's one of the weirdest thing that could ever happen to you first thing in the morning? For me, it was definitely getting a phone call right about 9am when you just barely woke up and having someone calling you up asking you to donate blood. Not to go breakfast or anything but rather to have needles poking into your tender veins sucking out precious blood from your body first thing in the morning. Definitely not something you'll get everyday. Haha.
So i managed to achieve something i once thought i would never do. Blood donation. Yeap. I managed to contribute some of
my
blood to
my
country. I just hope they won't spill my blood all over the operating room or have some psycho Malaysian steal my blood and pour over their land just because their national anthem says
"Tanah tumpahnya darahku"
. Hah! And by the way, this was my first time going for blood donation so i really didn't know what to expect other than knowing that there will be needles poking my veins.
So how was my first experience? I wouldn't say it was the best feeling in the world but definitely not
that
pain as
some people would exaggerate it to be. I guess why some people think it's that painful is because of the huge ass needle they see that's being used for blood donation where in actual fact,
(this is just what i feel not sure if others experienced it)
the more painful part was where the use a smaller injection to poke you first before using the big one. I thought even the little prick they do on your finger first to check whether your blood is fit for donation was much more painful than the whole process of having the blood coming out from your hand to the packet. No really, you know it's not
that
bad when i still can pose for pictures while having blood flowing out of me.
But then after a few while, you start to feel a bit woozy. Then that woozy feeling will just stay with you throughout the whole day. A good excuse to get MC and head home for a good rest perhaps?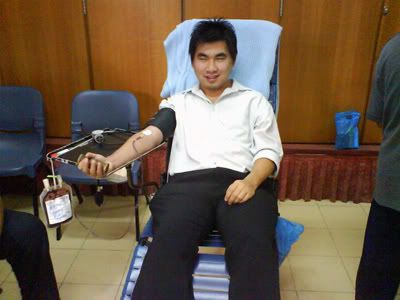 Okay, i feel a bit...woozy now....did someone spiked my needle or something?
This definitely
won't
my last time going for blood donation since it is after all, morally a good thing to do. I mean, you'll never know who's life you'll end up saving in the future right? But unless you're like
certain
people
who gets so tense up about blood and needles, i guess it's harder to convince to
"be a man and do the right thing!"
. Look who's the proud Bruneian now? Haha!
In Him