Farewell #1 - Ms. Ong / Joel
I hate goodbyes and i'm never good at it. Oh how much i hate it when you're just getting a bit comfortable knowing the person
finally
and then, the next thing you know, they're like going off. And whether or not they're coming back the same way the were, is another different story. But
most
of the time, they come back totally different anyway.
*COUGHS*
But anyway, 2 people i know are leaving. One to the U.K and the other one to good ol'America. But i'll pick on the
"soon to be Enguhhhland"
lady first. I know she's sooo gonna hate me for doing this but who cares la, not like i'm the one leaving anyway. :P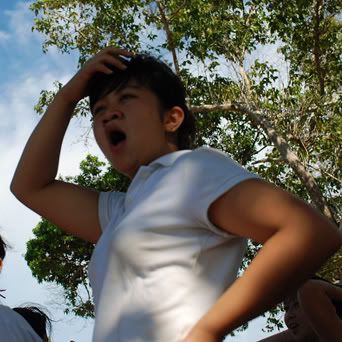 Ms.Ong
! Haha...surprise, surprise the picture's not deleted yet eh? Don't freak out la you still look 'purrttty'. Well,
sleepily pretty
that is. Bahahaha! Yeah, yeah i know we just so happen to talk this year only lah and looking back, it's quite funny how we started conversing from our silly tagboards calling each other with our surnames. :)
Well, it's been great knowing you for the past few months and poking you most of the time with your fringe when you had one. Eh, I still think being fringe-less is still wayyyy cooler than having one on anyway. Haha! Say no to fringe and yes to...uhh patterns. :P Hope you'll have a great time in the Great Brit-ain and oh do come back with a strong accent please? I so wanna poke you with that. Haha! "
We speaking the 'London' now shall we nggaa-arrr"?
Continue to shine for Him in the places you're going and also inspire the people you're going to meet yes? I'll see you when i see you yeah? Don't be a bimbo when you're back. No-no bimboness please! Stay safe you...
Joel Ang Ying Wei
. Let's see where i shall start? Hmm...you're practically someone whom i didn't quite like when i first met. Haha. Yes, first impression matters a lot so you didn't quite gave me a good one...but that was then. Now to know that the time for you to leave is ticking away,i somewhat get this feeling that i don't want you to go
yet
cause there's something missing.
Sounds pretty cheesy eh? Maybe it's the fact that i'm super jealous you're going to a place where i can only
dream of going
or probably i just need another extra drum lesson from you before you go or something. Haha! But yes, you were one tough nut to crack cause whenever i see you, i always see an 'expectation' look or in simplicity we'd say a '
setaie'
look. It's like you're giving people the
"you can only talk to me if you're a perfectionist"
sort of look. Serious! :P It's been great getting to know you over the past few months, though i feel there's still so much of catching up to do before you go but yeah, you're definitely one interesting chap. Don't get
too
upset now for not being able to do much while you were here cause i'm sure there are people / youths around you that you have inspired a lot. For now just remember that He has bigger plans for you when you're there so do prepare for that. You take care bro and much love! :)
Well, that's that. Next up would be
you
.
*Grins*.
I'm losing more friends now. Anyone wanna be my friend? :P
In Him