The Ultimate Gift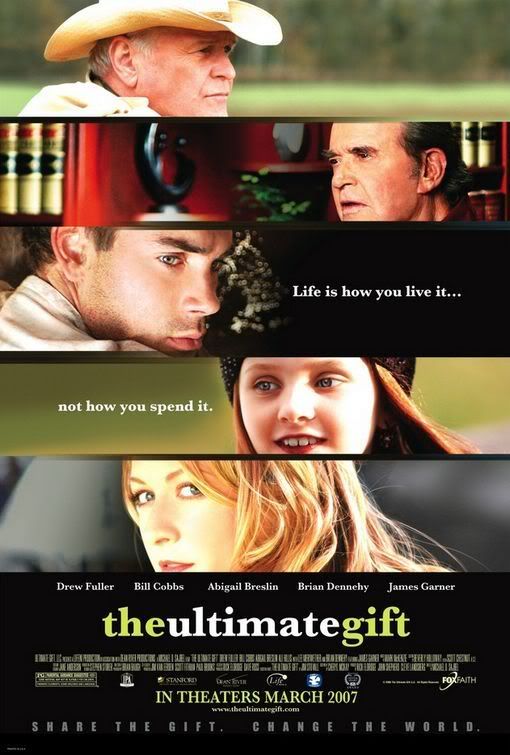 I don't exactly know when this movie came out but i just so happen to buy this DVD last week or so. Well if you did happen to watch this movie already, then you might wanna ignore this review but if you haven't, it's a two thumbs up from me. If you're a girl who likes a bit of lovey dovey plot in a storyline, this you
must
watch this. And if you just so happen to adore actors like Chad Michael Murray or Wentworth Miller, then i think you might like Drew Fuller in this movie.
I'm not a big movie fanatic in case you're wondering which is why sometimes
or most of the time
, i land myself with really crappy movies. But how i usually settle down with the movies i buy, is by reading the storyline on the back, checking out the actors in the movie
(i would usually assume the actors / actresses that i don't really know would be a low budget movie)
and looking for critics review printed on the dvd. For this one, the review given was quite catchy. With reviews such as:
"Will bring tears to even the coldest of hearts" - The Providence Journal "A breath of fresh air...this wholesome movie goes straight for the heart and will enrich your life with its bountiful presents." - The Kansas City Sun
it's simply hard to just put the DVD down and go with some crappy DVDs like
"Vacancy"
or something.
(Yes, i still haven't gotten over the fact that Kate Beckinsale was in a really crappy movie!)
I'll just let the trailer speaks for itself.
Somehow
The Ultimate Gift
just reminded me of Nicholas Cage's
Family Man
movie because the whole movie has something to do with wealth and love. Speaking of which, i have yet to find the dvd for
Family Man
. Overrall, after much research on this movie, it has inspired a lot of people around the world to give after watching it.
And that's exactly what the world need to do. Give...
In Him