Flight penerbangan BI Saya nak tidur...
After i've graduated from
KDU College
from Hotel & Catering Management, i've always thought of trying out to be a flight attendant. Back then i doubt i wouldn't even stand a chance because from what everyone was saying, it seems like in order to be a flight attendant, you'd need to have a background cert saying you were once
Ms. Malaysia 1999
or
Mr. World 2000
. But at least today, they look more on your qualification side and since i'm holding a Hotel & Catering Management cert, i think my chances of becoming one are quite high since i'm a trained
'hospitality'
person and also i'm a
Bruneian
now.
As much as i wanted to be a flight attendant, i honestly didn't know how life being one would be like. There's always one questions in my mind that ponder around and one of them is where do they rest if they're going on a long flight? But, today
(*yes today!*)
i got a forwarded email from a friend in KL that pretty much answered everything. Do note that information on flight may not be accurate.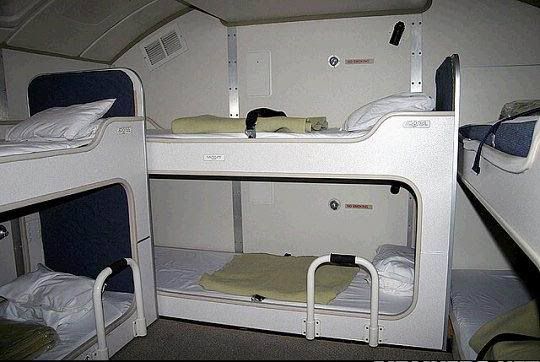 Resting place for flight Boeing 747 - 400
KLM Airlines...sweet!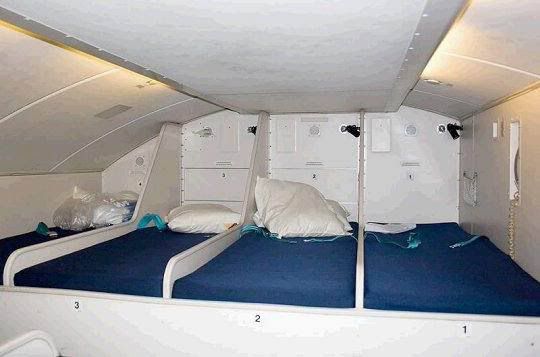 Airbus 340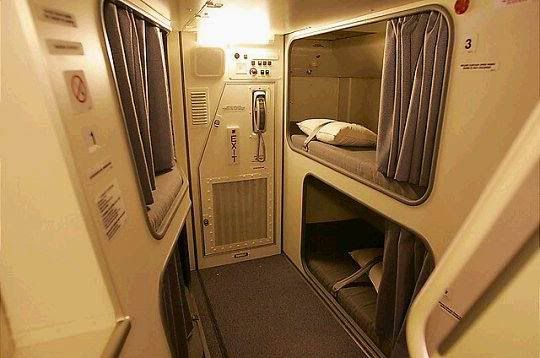 Singapore Airlines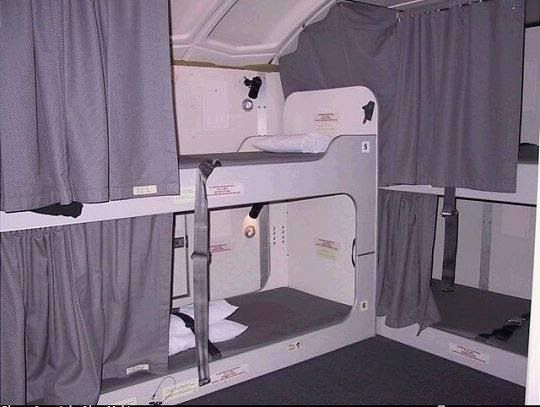 Canada Airlines
Last but not least, the cheapest airlines that's taking over Asia by storm with the slogan "Now Everyone Can Fly!", it's none other than
Air Asia.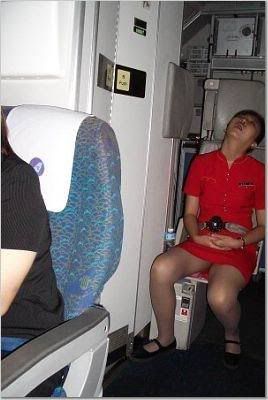 I'm sure she's having a nice budgetted dream.
And for some reason all these hospitality talk just make me miss her so much. I guess it's cause we met when i was in KL doing a hospitality course so whenever anything hotel-ish or airline-ish is around, somehow you'll just pop into my head.
It's already coming to 2 years since i've last seen you. I hope you're fine, healthy and most importantly, happy with who you are with now. I have yet to drop by one day and say hi to you but apparently for now, it doesn't seems to be possible. I hope you're still the same the way i've met you, the way i've loved you and the way i've left you.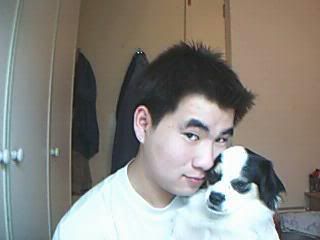 My Milky...

Putting everything aside, just thought i'd share this with you guys. The song that i just uploaded is sung by
Franky Sihombing
, a very annointed worship leader from Indonesia whom i think kinda look like Allan Saikawa of St' Andrews Church and a bit of Hiro Nakamura from Heroes. But anyway, i heard this song while i was attending the ADYC Leader's Forum in Sibu and the words just really touched me. Managed to find this so hope you guys will enjoy it as much as i do. If it's not playing then wait for it to finish loading first cause it's worth the wait :)
Bapa Yang Kekal
Kasih yang sempurna telah
Ku trima dariMu
Bukan karna kebaikanku
Hanya oleh kasih karuniaMu
Kau pulihkan aku
Layakkan'ku tuk dapat memangilMu bapa
Kau bri yang ku pinta
Saatku mencari ku mendapatkan
Ku ketuk pintuMu
Dan kau bukakan
Sbab Kau Bapaku, bapa yang kekal
Takkan kau biarkan
Aku melangkah hanya sendirian
Kau selalu ada bagiku
Sbab kau bapaku , bapa yang kekal
For those who don't know Bahasa, i'll just translate them for you.
Everlasting Father
I've received Your perfect love
Not because of my goodness
but because of your grace,
You've restored me
And made me worthy to call you Father
You give me what i've asked
The moment i'm searching, i will find
I knock on Your door
and You opened it
Cause you're my Father, my everlasting Father
And You won't let me walk this path alone
You'll always give me
Cause you're my Father, my everlasting Father
In Him
(Emo note: Don't you just wish there are times you've never said anything at all in the first place to someone because you'll just end up regretting it?)