God's artwork
I've been jogging for a good couple of months now initially with the aim of losing '
it
'. But after a while of motivating myself and seeing no results, i've decided to use jogging as my source of de-stressing myself from whatever that i'm going through
(but usually shopping intensively would do the trick really!)
or just to take myself out of everything that's surrounding me and spend good quality time alone praying now and then, looking for inspiration around me or just thinking about life and people.
Most of the time i'd be adoring the beauty of what surrounds me. God's masterpiece. And if it's too beautiful, i'll just take out my handy dandy
Sony Ericsson W880i
phone and snap a picture of it. So far these are some of my favourites. Joined them into a collage cause i'm
that
lazy to upload the pictures multiple times.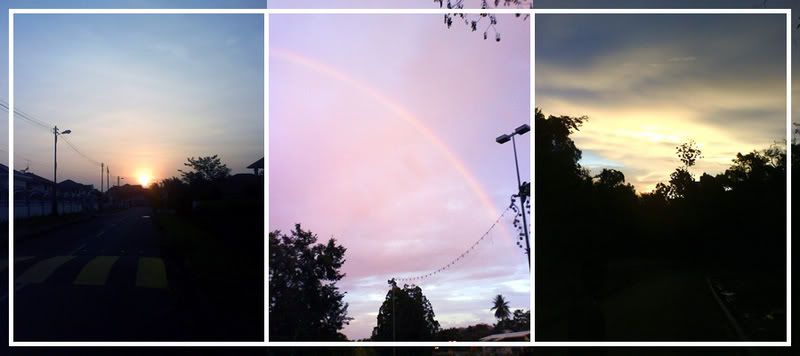 Sun setting behind my place, beautiful rainbow along Damuan stretch of road while jogging alone and beautiful clouds at Tasek while jogging with
Stephen
...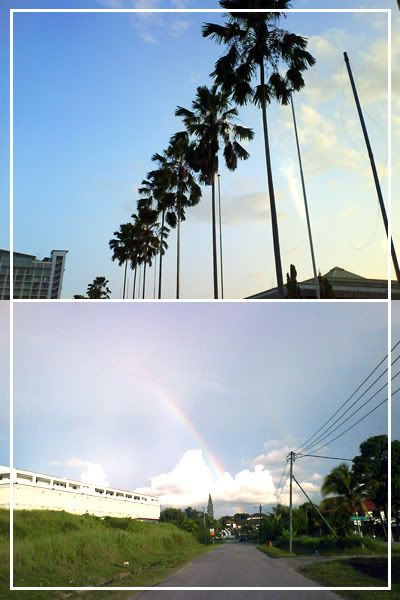 Clear blue skies along Bandar somewhere near the post office and another nice rainbow outside my place. Actually there are 2 rainbows if you look closely next to the obvious rainbow on the right

.
Unlike
someone
, i'm no pro at what i shoot so please don't get agitated with my pictures buddy. I'm not the one holding on to a
Nikon D80
...
yet
! Hehe. Hope all of you are doing fine. Continue to be inspired!
In Him