Caps are called topi in Malay...
I think most of you can see by now that i've got a really bad habit of
spending
money
. No i'm not rich at all, it's just that i do not have a good habit of saving up money. I do try once in a while but it'll always end up with me buying something. Yes, it's that bad. Plus what makes it worse is, having friends who
"try"
to discourage me from buying certain item will only make me find another 1001 reasons to why i want to buy that particular item even more!
When it come to collectibles, i'll be so tempted to buy all of them or at least try to buy all of them. Take CDS for example, one of my
retarded
habit is to buy the album
IF
i like one or two songs from it. Then, if i grow fond of the artist, i'll tend to buy
ALL
of the albums that's been produced by the artist regardless of whether the album is good or bad. Thank God i grew out of
Michael Jackson's
music otherwise i can't imagine what's filled in my room now. Haha..
Oh and caps too. I never wore caps before back in highschool. Always thought i'd look weird in it. It was only back in KL that i picked up the habit of wearing a cap...and also partly to prepare myself from revealing bald spots. I'll probably share on the bald spots next time but no, at the moment i do not have one yet. I just might have one as i grow older due to my dad's family genes i think. Such a turn off eh? I thought so too...
But yeah, i got the habit of wearing caps back in KL. Initially i didn't have any plans of collecting caps at all but after i got back someone noticed
(yes, i loveeee being notice whenever i put on something...who doesnt anyway? :P)
that i tend to wear caps only with this logo...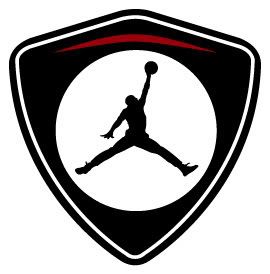 Air Jordan
Or at least with the dude stretching his leg wide wide on it. The logo actually represent basketball legend,
Michael Jordan
because of his famous slam dunk pose back in the days. Do note that i'm not a fan of basketball so i might be wrong but anyway, back then i only had 3 Air Jordan caps? And ever since that day, i've been somewhat
inspired
to get as many Air Jordan caps as i could, under the condition that it fits my head perfectly. Mind you, i have a big head. Few friends of mine know this cause they've tried my caps. Ask Kit.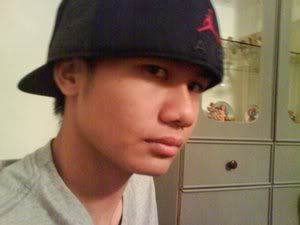 Pinoy Model of the Year 2007!
That's one of the many reasons to why i only buy Air Jordan caps. The sizes they produce just pleases me. So far the only place i know that sells Air Jordan caps locally in Brunei is in Yayasan Hua Ho, Sports Centre. Once in a while they'll bring in good designs of Air Jordan caps but most of the time, it's crappy which leads me to my search for the caps overseas. I've got so desperate to a point that i literally get one of my online buddy
(whom i'd love to meet if i get the chance to)
to shop for me in the States. And because she's such a nice buddy, she managed to get me the 2 caps that i wanted!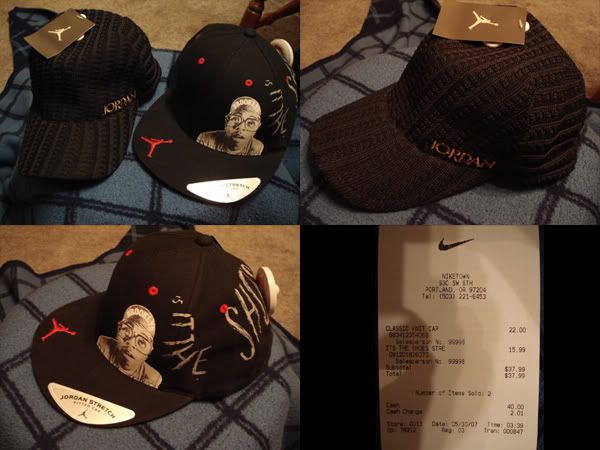 2 more for the collection! Woopeee! Thanks Yang!
Can't wait for that to arrive...just like how i can't wait for my
Ikea
stuffs to arrive (*pokes*
Chel
), my
CDs
from the
States
,
Australia
&
Hong Kong
and my
posters
. But then again, on the caps issue, somehow i know my collection of Air Jordan caps won't be that hard in the future cause of *coughs*
SOMEONE I KNOW
*coughs* who's migrating to the States soon. I'm sure he'll be of great use there. Amen to that brother! Haha.
In Him