Stomp The Yard
"Once you're a Theta, you'll forever be a Theta.."
So i managed to catch
Stomp The Yard
last night with
Stephen
. Didn't really plan to watch this movie initially as there were mixed feedbacks from some of my friends who have watched it. Some say it's really good, some say it was just okay...but for me, personally, the storyline of this is just way too cheesy. But before i continue, major credits for the choreographer who choreographed the dance for this movie. Yes, i'm very impressed with
some
of the dance moves and the whole
"gettin' down with my homies move"
but there are certain dance moves in this movie where you can just go home and laugh about it. No, really...
WARNING: THOSE WHO HAVE PLANS TO WATCH THIS MOVIE, PLEASE CLOSE THE WINDOW RIGHT NOW BECAUSE I AM GOING TO SPOIL IT FOR YOU.
On with the storyline...
Dude starts off the movie with dance battle, his bro got killed because he became ignorant, felt guilty and decided to fullfill his brother's wish by studying in a college, see a hot babe drinking water, manage to talk to her, caught her attention by defeating her boyfriend in a dance battle, answered 1 history question which landed him a dinner together with this girl who he managed to kiss her on the first date, then he decides to join
Theta Nu Theta
(the hissing group)
who's leader looks somewhat like
The Rock
who also used a lot of cheesy '
inspirational
' quotes. Then dude happened to make girl confuse who in the end broke up with her boyfriend that's in the opposition group called
The
Wolves
that makes ridiculous howlings as their motto. More dancing, howling and hissing which pissed the girl's ex-boyfriend off who found out about dude's crime history, made a big "
hoo-haa"
about it to the girl's father who happens to be the college's dean who then messed up dude's life for around 20 minutes and then, decides that he's cool enough to stay in college after the daughter found out that his father used to date dude's aunty who messed up because she didn't want to marry him before. More dancing with extreme funny facial expressions, hissing and howling then end of story.
What? Don't believe?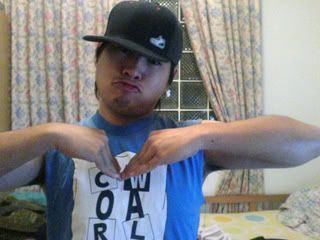 I STOMP YOUR YARD THEN YOU KNOW AH!! OWWWWWW......!!
Don't waste your time, go watch
Jangan Pandang Belakang
or something else. Have a happy Good Friday celebration! :)

In Him