Tak Tung Chiang...
This year, we celebrate the year of ze rats. Or some would like to call it, year of the mouse. It's quite ironic cause i remember some people
(or at least the super chinese type of people)
decided not to eat chicken during the year of the rooster/chicken and some skipped eating pork during the year of the pigs.
So...this year what do we do with the rats? Obviously we don't eat them although i know there are certain countries that treat them as a delicacy.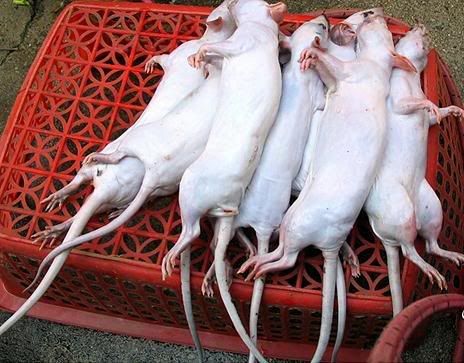 Lunch anyone?
I guess that'll only lead to one thing. Be nice to them. Growing up, i've seen how my family dealt with these pests. I've always been so eager to check the rat glue the next day whenever my dad used to set it around the house. Or the little mouse trap that that's being strategically planted around. If they were caught, i'd usually have some fun poking them with sticks before letting my dad do whatever he usually does with that. Unlike some people i know, they usually pour hot boiling water over those pets until they die to get rid of them...but my dad just puts them in the plastic bag, tie em up and let the rubbish truck take those little pests to their salvation...which is the rubbish dump located next to the soon-to-be-new RTB building. Haha. So if you see rats running around this year, feed 'em! If you've got hamsters, pamper them. Who knows...prosperity might be knocking at your door?
I'm quite happy i never quite grew up in a family full of ancient chinese traditions. I find some of them quite amusing. Seeing some mothers and aunties buying red spandets and panties for their kids. Chinese New Year ah...everything must be ang ang ok? Bo ang buey tang ah! Or believing that everything must be new / clean for the new year. Must cut hair then their dye hair super red. I wonder if they also do the same for their armpit hairs too. Hmm...
Well, regardless of whether you practice any of the above traditions or even better ones, i wish all of you a Happy Prosperous Chinese New Year. May this year bring all of you great health...
while i enjoy my new toy for now
.
Sony Ericsson W960
In Him