Happy New Year 2008!
And just like that, it's already 2008.
I was suppose to type up my New Year's resolution before 2007 ends but what the heck, i'll probably figure out what i want to achieve this year a
little
bit later.
Hope everyone had a fantastic celebration of the New Year. My 2008 celebration was a quiet one. Just a mini barbeque with my mom and my uncle's family. I
was
suppose to attend the New Year's Eve service at church but in the end, i thought it'd be more meaningful to spend it with my family instead. Plus, with all the preparation for the
exhibition that's happening on the 2nd
, i got so exhausted from all the packing and moving of stuffs. And just so you know, while most of you would be sleeping in tomorrow, i'll be moving shelves and boxes of stocks to I.C.C in the morning!
*grr*
Anyway, i figured to kick things off for 2008, i'd try something different. Of all the things that crossed my mind, i ended up doing this one.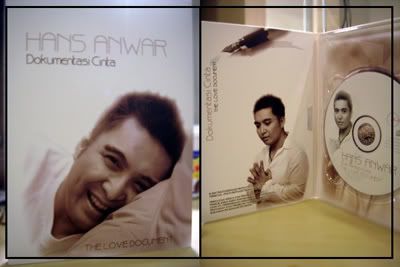 Hans Anwar CD "The Love Document" in local stores at BND$12.50.

Maybe it's the
"Awang Budiman"
spirit kicking inside of me that made me feel like purchasing a locally made cd. I've
never never ever
purchased a single album by any of our local singers before for a thousand and one reasons and i'm sure that apply to probably 8 out of every 10 Bruneians? Even when i paid for the cd, the lady behind the counter gave me this really weird look.
After testing out a few songs, it felt pretty weird. Due to the fact that Hans Anwar is one of the respected composer in our country, i think he did contribute a lot of his work towards to local entertainment industry but because i've never really paid full attention to his own music before, when i first played a few songs from his album for the first time, some of them sounded like....jingles from our local radio & sound effects that's being overused on our local tv.
Oh well, at least i feel like as if i've accomplished something for the start of 2008. I did indirectly
'contribute'
something to my country. Haha. Talk about being a true Bruneian.
Have a great start of 2008 all of you.
In Him