Mission Trip Part 1: To Munoz
It was my first ever mission trip and also my first time to the Philippines. I have no idea what to expect and was told not to expect much either, so you can say i went there with only a portrait of their president,
Gloria Macapagal Arroyo
in my head since that's pretty much the only thing i know about the Philippines.
Departed from Brunei to KK via car on the 5th of December. Aside from driving down to Miri only once, i've never driven long distance before and whenever someone asked me to, part of me always feel uneasy because i tend to think that
somehow
, one way or another my tyres will suddenly explode while i'm driving down real fast and i'll end up dying or something. Talk about being paranoid. The trip was obviously a long and tiring one. My advice for you if you plan to drive down KK? Use a 4wd car. The road after Lawas is just so...
painful
.
Spent a night in KK before flying off to Clark, Philippines. The moment we touched down at the airport, my level of
'sakai-ness'
shot up. I've never seen a volcano mountain
(or at least that's what i was told?)
before and i've never felt the coolness of natural air. It felt like as if the whole place has a huge air conditioner behind the clouds or something.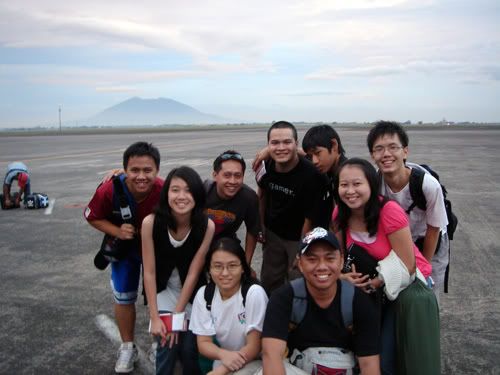 Touchdown at
Diosdado Macapagal International Airport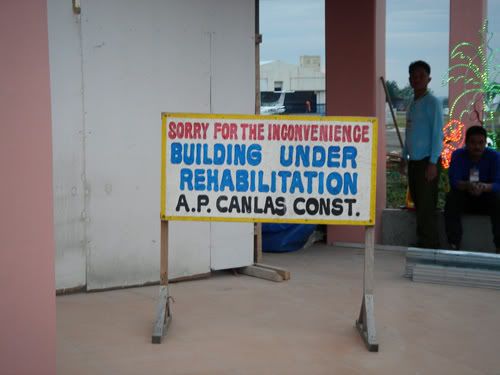 The air was so cool that even the buildings can hibernate.
I was amazed that the airport there prioritized tourists first when checking out of the immigration. Unlike most of the countries where they give priority to the locals, the immigration there allow non-Filipino passport holder to be first in the line to chop out. While most of us got through the immigration, we also found out that there's some funny law in the Philippines that state if you happen to be under 15 and you're travelling without your parents, you'll be fined by the authorities and you must pay a certain amount to enter the country regardless of whether your parents have given the consent or not. No parents? Just show me the money!
The moment we arrived, we had to take another 2 hours or so straight to the village where we'll be staying for the week. Again i have emphasize this that we were told not to expect much for mission trips but
'not expecting much'
doesn't mean you just ignore the thought and don't bother thinking about it right? So while on our way to where it would be our home for the coming week or so, I was trying hard to picture how the place would seem like or at least where / what we'll sleep on. So in my mind, I sort of picture floors made of bamboo sticks with gaps in between here and there and if you peek down you'll see long grass and probably snakes crawling around with bugs here and there. The more i think about it, the more it seems like i was in some of episodes of
Worlds Apart
. But anyway, no matter how hard you picture something in your head, when you're being shown the real thing for the first time, obviously there will be an initial reaction first before you slowly allow everything to sink in.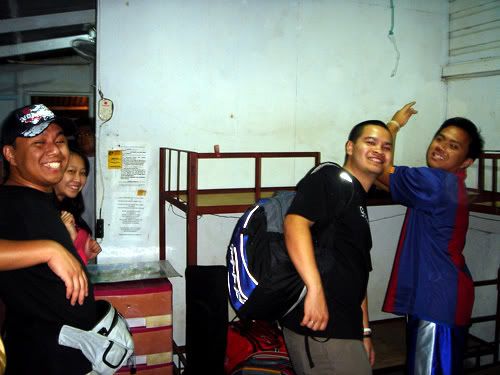 Fake smile! Fake smile!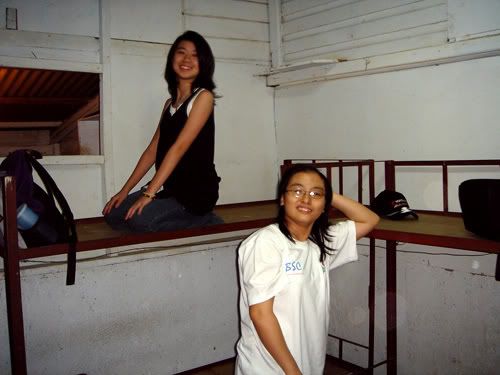 "Hooray! I love sleeping on planks instead of my comfy bed...!"
My first reaction was...
"Are we seriously going to sleep on planks? Where did they put the tilams (mattresses)?!"
Like i said, most of us got a bit shocked at first knowing that we'll be sleeping on planks but after a while, everyone slowly settled down. When you're exhausted from so much travelling, you can practically lie down on anything and fall asleep.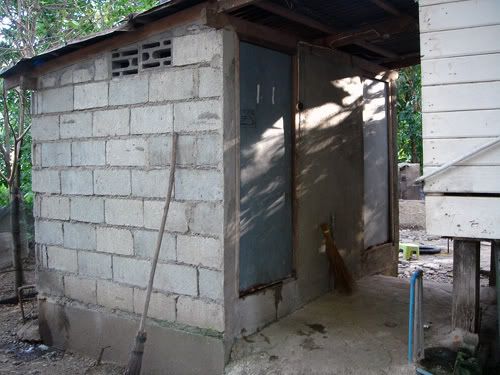 Our toilet where everything's manual. Back to basics babeh!
The following day was mostly preparation for the programmes we're doing. So we had to do a bit of walking to find whatever we need to.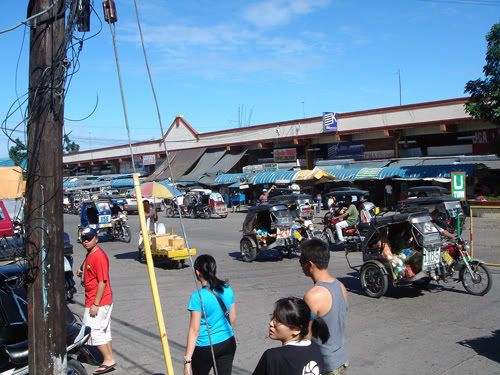 Walking along the busy street of Cabanatuan City...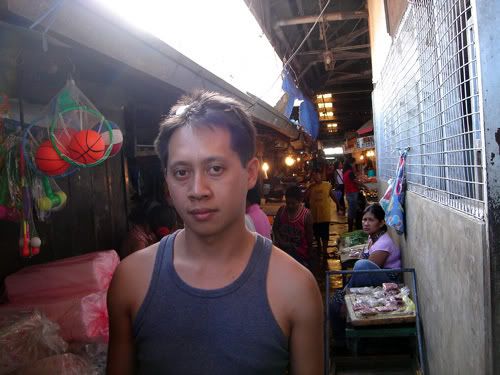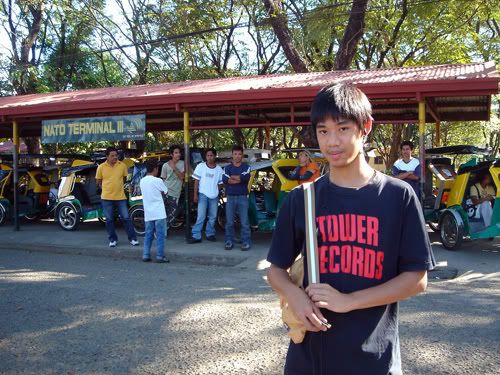 Statue of Jose Rizal
And then we finally start our mission trip programme with the villagers of
"Villa Santos"
. For those who think drivers in KL are crazy, wait till you experience how Filipinos drive there.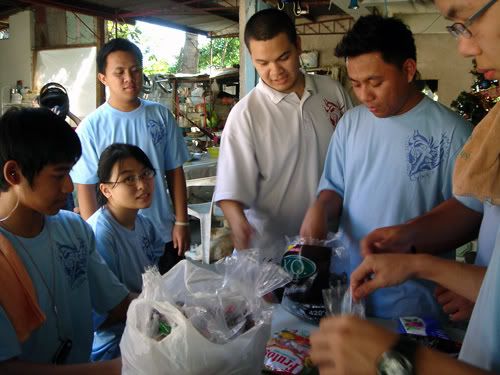 Packing of sweets for the children...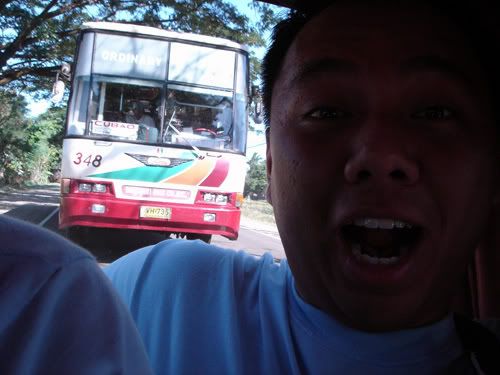 Look at how close the bus is to our tricycle.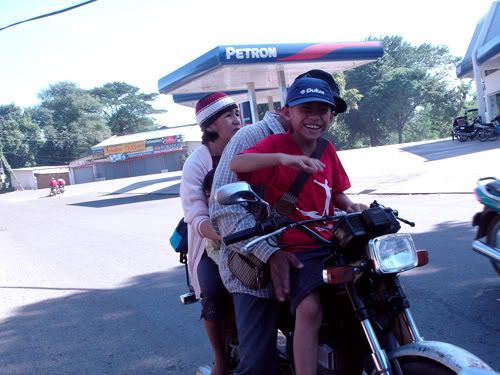 El on his uncle's motorbike with the family...
Entrance to the village. Apparently it's a science city.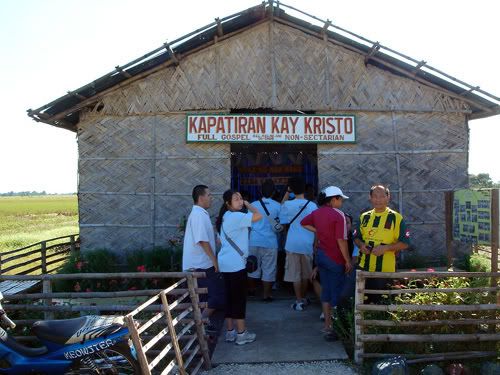 Entrance of the chapel where we did our programme...
What we pretty much did over there was simple....simple enough to break the ice, simple enough for them to be able to have fun, simple enough to take their mind off whatever they're going through for the moment and simple enough for them to come together in worship and in prayer.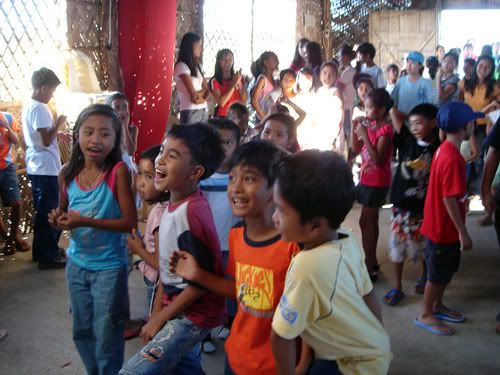 The excitement on their faces when being asked whether they want to play a game. Their expressions, smiles, laughters and tears will always remain in my heart...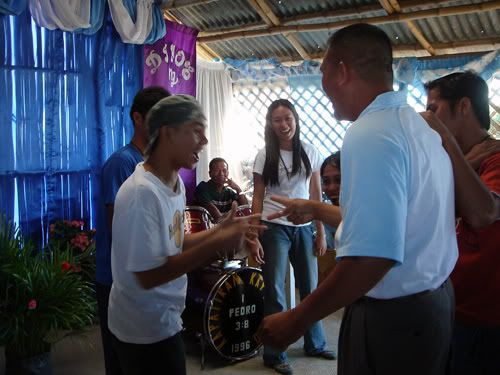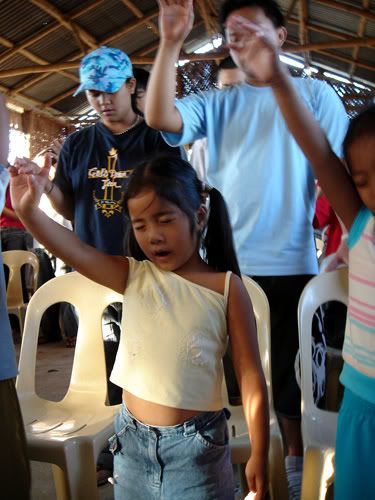 Praying...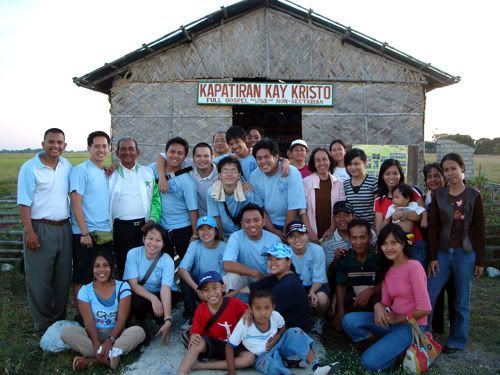 One for the memory...
I miss the nice cool air with the beautiful scenic view of mountains there. Oh and just in case if you're wondering what's up with my previous topic title, it's actually a name of a shop there.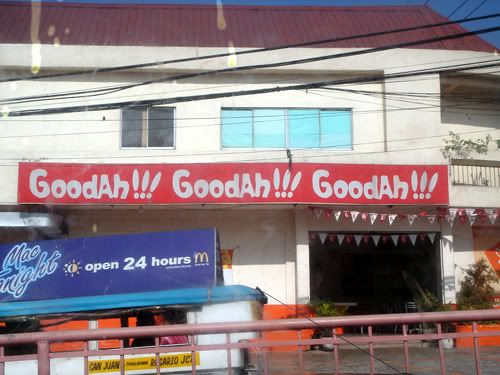 Anything's possible in the Philippines!
In Him