Freedom...
So, the time have finally come for us,
KDU Trainees
to walk freely. 6 months of intensive..no wait, let me rephrase that again...
6 months of bloody idiotic training
is finally over and done with! And yes, most of my friends' nick in
MSN Messenger
are like "Freedom", "Free", etc. Freedom never tasted so sweet before.
So what did i do after June 26th? I went all the way to
Park Royal
in KL to meet up with my parents who flew in. It's been a hectic week really. A lot of ups and downs within these 5 days.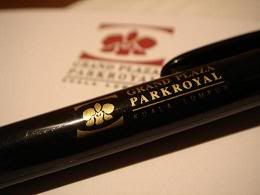 Earlier on, it was suppose to be my mom who's suppose to fly in to spend the week of my holidays with me. Later i found out that my dad, last minute decided to fly in too to do some medical checkup. Didn't sound serious to me cause usually it's just a normal routine of going for checkups and stuff like that but the moment they arrived, my dad looked really worried. He didn't smile, didn't talk much, just kept things to himself. My mom told me that back in Brunei, the doctor told him that the chances of him getting a
Colon Cancer
is high. I'm no doctor but from what the report shows, there is some
haemogoblins
and stuff in your body that cannot exceed a certain limit. So for a normal human being, it would usually be less than 8.5. As for my dad, somehow, the report shows that some of his
goblins
shot up to as much as 410.
Scary..no?
So there he was, my poor old papa, worrying his head off. That night itself, he started talking to me about his
properties & assets
in Brunei and Sabah. All the talks that i don't expect to hear just came out that night. I'm just 18 for goodness' sake!
I prayed hard everynight asking God to guide my family through all these and hope for the best. Thursday afternoon was his final checkup where the doctors would examine his large intestine to confirm whether the cancer is there.
FALSE ALARM!
Yeap, fortunately, no cancer..my dad is considered as a healthy man. So it's a big relieve that there was nothing wrong with him. As for the other report, he would have to go back to Brunei and check with the doctor exactly what the matter is.
So after hearing the news, the 3 of us went off to celebrate. Well, not really celebrate as in party hardy...i kinda went on a shopping spree. *lol*
All in all, i almost spent around $1500+ on my own? Bought a new bag for college from
Body Glove
, an
American Tourist
bag for my laptop, a portable DVD player, one whole set of Magic stuffs,
Issey Miyake
perfume which i've been craving for a long time, a really nice shirt and few DVDs & CDs.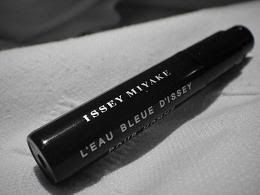 That's the sample perfume given by the salesgirl. I bought the very first Issey Miyake perfume. Now i'm gonna get that one next. Oh by the way, i tried to be 'photogenic' with my camera so yeah, the first 2 picture is kinda 'artsy'. Hehe...
Parents went off yesterday. My mom wanted to stay a day more but my dad talked her out of it cause he have to settle more issues back at home. My mom love me. :)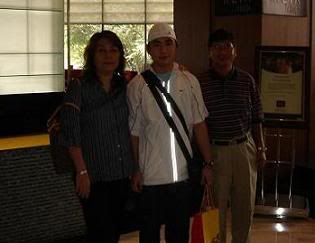 So yeah, i'm just gonna slack for this 2 days before college resumes. Before i end this post, i would just like to thank the Lord for answering me and my family prayers, a few bloggers from
Livejournal Malaysians Community
for praying with me and giving me encouragement, a some friends here and there for helping me out. Thank you so much for all your concerns and prayers contributed. <3
Overrall, somehow for me this week have brought our family a lot closer. I never had much conversation with my dad but through all these, we went through all ups and downs. My sisters never stopped messaging my dad asking about his condition, praying for him, my brother messaged me everyday asking me to take care of my parents, both me and my mom supported my dad throughout this
unfortunate
event. So yeah, all well ends well..(?)