Chapter II: Life goes on...
Two years ago, i made a decision to further my studies after completing my GCE O'Level back in St' Andrews School at
KDU College
. I remembered the anticipation of leaving home and starting a
"new"
life and all the wonderful thoughts of being independent and having freedom all to myself.
I remembered my first day of being in college. The anxiety of fitting into groups and making new friends was pumping into me. I remembered introducing myself and getting looks from the people around me that says
"Aren't you suppose to be in highschool...?"
I also remembered sitting on the second last row of the class on the second day where i first met
Simon
who was from Maldives (it was only then and there i discovered Maldives..
honest!
) and
Elliot
who was the only white guy from England in the college. Little did i know that that row of seats would end up being our 'group' frequent seats for the next 2 years.
I remembered getting excited about having a Korean guy in the same class as i was a big fan of Korean cultures.
Chris
is his name and he ended up being my
"hyong"
(big brother) and also my housemate. Then there is
Jhia Wei
and
Alvin
who were also one of the first few people i remembered talking to. These were the names that i knew by heart and the people i talked to for the first few weeks in class.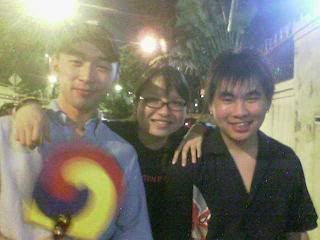 I remembered when we moved on to the second semester,
Ms. Ann
our A.A announced that we will be combining classes with our so called
"seniors"
till we graduate. That was when i met
Fariz
and
Ossie
who also ended up being with the 'group of last row boys'.
Goh
was always the class' lead singer by giving his frequent
"Uhhh...announcement class!"
where everyone would get annoyed with. Then there were also nicknames that were being labelled for friends that suited them or those that their names can't be remembered. Names such as
"Mr. Ego, Pretty girl, Ostrich girl, Orange Boy, SpongeBob Square Pants, Leprachaun girl, Snow White and more..
Then, there was the trip to Brunei for the Crown Prince's Wedding where everyone had a great time.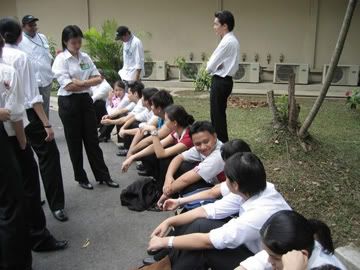 Time went by so quickly, and the next thing i know, we were all doing our industrial training already. Six months of exposure to what we have been studying so far were "eyes-opening" and also a great experience.
And then, it was back to hitting the books and burning midnight lamps for last minute revision where the class were short listed to almost half. I remembered
Mr. Alan
telling us that the upcoming 6 months will be really fast and encouraged everyone to make the best out of it before we finish our diploma. And it is only times like these where now you only get to know how fast the word 'fast' really is.
Final semester, where bonds were tightened and conversations were endless. The whole class grew closer after their training and barriers were let down. It was also here, where people began to show their true colors and you know who you can talk to when you need them. Some changed, some remained the same but nevertheless, the book were closed with everyone having a smile on their faces.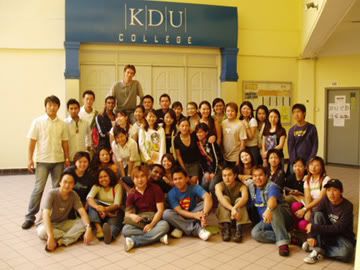 With all these thoughts that will be cherished forever, i wish everyone from DCM 1 and 2 the best of luck in everything you do and i bid thee...
"Danke für die Erinnerungen und Auf Wiedersehen!"
In Him